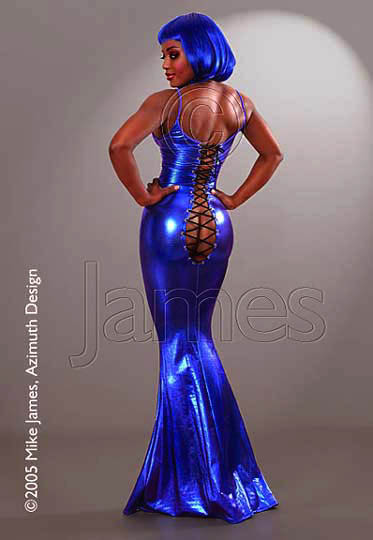 P175 Blue Angel

Sexy?...you damn skippy! 
But you know what?...except for maybe those bottom two sets of laces, 
I could actually see this dress at the Oscars, or say, a ballroom dancing contest.   
Unlike most "erotic" clothing, this gown retain a lot of elegance. 
And, speaking of elegance, who would NOT regard the creature
woven into this sheath, a complete and utter knockout. Take a bow, Lola.

Copyright © 1999 Mike James, Azimuth Design
All photographs, in whole or in part, and all related materials are 
copyrighted and registered intellectual property of Azimuth Design. 
All rights reserved, in any media.
---
The Gremlins in the Garage webzine is a production of Firefly Design. If you have any questions or comments please get in touch.

Copyright © 1994-1997 Firefly Design.