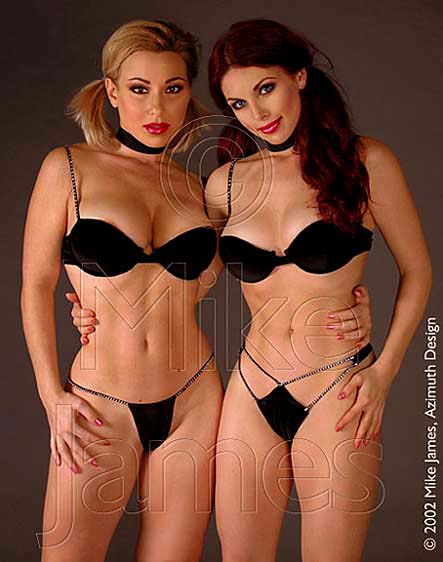 P087 Velvet Twins
There's a sweetness in the visage of these best friends that just goes straight to the heart. 
Of course, both possess bodies to would make a frat boy cry "mommy". 
But look at Rachael's eyes, the tender, relaxed mouth. And Jasi's shy, sideways glance 
and welcoming smile. There is nothing here but raw beauty... 
Stunningly elegant undergarments, lovely, quiet expressions, tender understated poses, 
fingers lightly caressing. It is clear both girls are capable of deep affection, and sweet love.
(As a side note, I can't help being fixated on the warmth I know is being generated 
by their pressed thighs...very nice touch Mike. Understated. Classy.
Back to Girlfriends Thumbnails
Copyright © 2002 Mike James, Azimuth Design
All photographs, in whole or in part, and all related materials are 
copyrighted and registered intellectual property of Azimuth Design. 
All rights reserved, in any media.
---
The Gremlins in the Garage webzine is a production of Firefly Design. If you have any questions or comments please get in touch.

Copyright © 1994-1997 Firefly Design.