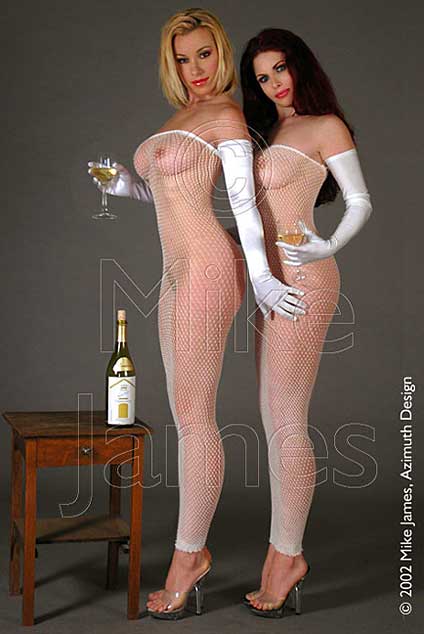 P086 Twin Toast
Right off we know you're wondering, "What kind of gowns ARE these?  (and where can I get one!)"
Mike tells me it's cheap surgical tubing; this diameter webbing intended for "leg constriction". 
But inspired-Mike makes little Rachael and Jasi cram their entire BODIES into it! Whew!
Utilizing such a base, functional material as an "elegant hobbledress" is just super-wicked! 
REALLY freaking sexy! 
 Imagine the ruckus these two would cause, arriving at the Oscars dressed like this! 
They'd be like a media black hole! Sucking all attention their way. No doubt the "usual" 
Hollywood fashion plates would scarcely get noticed! Fabulously bold and daring!
Back to Girlfriends Thumbnails
Copyright © 2002 Mike James, Azimuth Design
All photographs, in whole or in part, and all related materials are 
copyrighted and registered intellectual property of Azimuth Design. 
All rights reserved, in any media.
---
The Gremlins in the Garage webzine is a production of Firefly Design. If you have any questions or comments please get in touch.

Copyright © 1994-1997 Firefly Design.