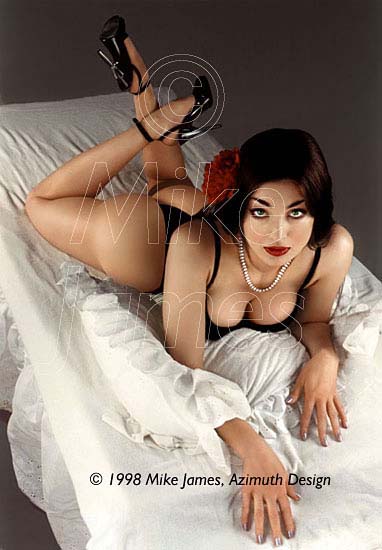 P019 TummyTina

This is a best-seller at trade shows. Mike thinks it's because of what he calls the "triple threat" 
of the picture. Pretty, almost pleading, green eyes, creamy voluptuous orbs up front,
and just in case that isn't enough torture, a derriere so creamy it could make a priest weep. 
Just plain loveliness everywhere you look.
Copyright © 2001Mike James, Azimuth Design
All photographs, in whole or in part, and all related materials are 
copyrighted and registered intellectual property of Azimuth Design. 
All rights reserved, in any media.
---
The Gremlins in the Garage webzine is a production of Firefly Design. If you have any questions or comments please get in touch.

Copyright © 1994-1997 Firefly Design.