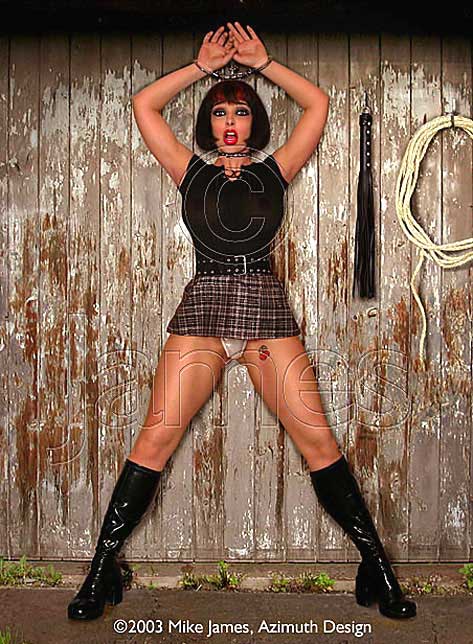 P128 Trouble
Shackled, splayed to a shed wall like a specimen, far from prying eyes? 
Clad only in a teeny skirt, and a top that clearly indicates a forgotten brassiere?
Yup, Suzy's in trouble alright, looking like nothing, but prey. 
Particularly with those implements of abuse so oddly handy. 
The "pop-arty" front-and-center composition here adds greatly 
to the sense of her vulnerability. A classic, cleanly done.

Copyright © 2003Mike James, Azimuth Design
All photographs, in whole or in part, and all related materials are 
copyrighted and registered intellectual property of Azimuth Design. 
All rights reserved, in any media.
---
The Gremlins in the Garage webzine is a production of Firefly Design. If you have any questions or comments please get in touch.

Copyright © 1994-1997 Firefly Design.