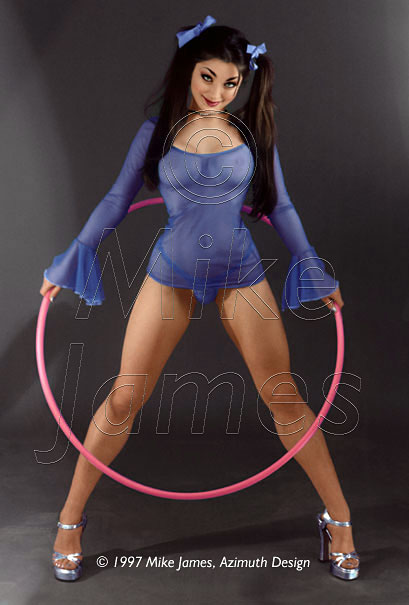 P031 Tina Hoop 

Could ANYONE look more devilishly playful than Tina does here? You folks missed 
a real treat, watching Tina sensually orbiting that hoop around those lovely hips. 
Be still my heart! We think this takes the award as the most "precious" photo Mike's ever taken. 
A very nicely "designed" composition as well. Looks like "fine art" to us.
Copyright ©  1997 Mike James, Azimuth Design
All photographs, in whole or in part, and all related materials are 
copyrighted and registered intellectual property of Azimuth Design. 
All rights reserved, in any media.
---
The Gremlins in the Garage webzine is a production of Firefly Design. If you have any questions or comments please get in touch.

Copyright © 1994-2001 Firefly Design.