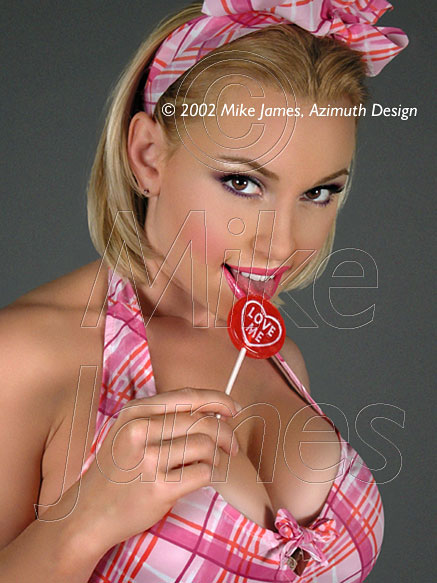 P074 Sweet

Folks, say hello to Rachael. A 100% natural beauty. For you brown-eyed lovers 
out there, Rachael's packing a pair you could SWIM in! (And of course, for that RARE aesthete,
there's the "other" pair.) Rachael is quiet and unassuming. Even on set, she seems NOT to draw 
attention to herself. Because of that, Mike says he never understood the depth of her beauty until 
AFTER she'd left. After staring in awe at her pictures. "Rachael's allure  'works' on you", he says.
Personally, I could look at this sweet face on my wall every day for the rest of my life.

Copyright © 2002 Mike James, Azimuth Design
All photographs, in whole or in part, and all related materials are 
copyrighted and registered intellectual property of Azimuth Design. 
All rights reserved, in any media.
---
The Gremlins in the Garage webzine is a production of Firefly Design. If you have any questions or comments please get in touch.

Copyright © 1994-1997 Firefly Design.