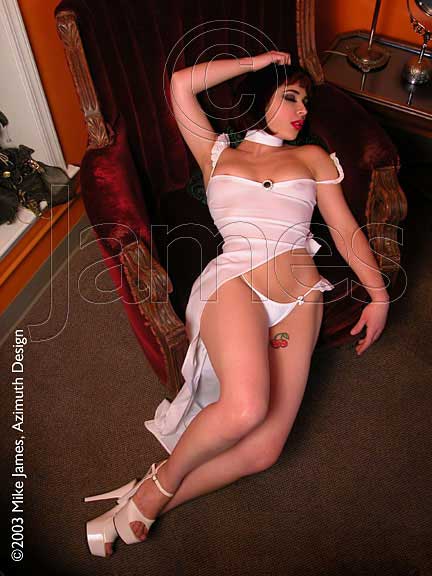 P123 Suzy Snake
BAM! ..a nice way to start off! Mike designed this dress. And his friend Isabelle, 
in France, sewed it for him. A magnificent ensemble, that little Suzy fills it out quite nicely. 
Suzy regards herself as average, but there is a sort of hidden, very feminine elegance in her. 
Not just evidenced by the overall pose here. Look at that dangling hand, 
that's gentle elegance worthy of a Renaissance odalesque!

Copyright © 2003Mike James, Azimuth Design
All photographs, in whole or in part, and all related materials are 
copyrighted and registered intellectual property of Azimuth Design. 
All rights reserved, in any media.
---
The Gremlins in the Garage webzine is a production of Firefly Design. If you have any questions or comments please get in touch.

Copyright © 1994-1997 Firefly Design.