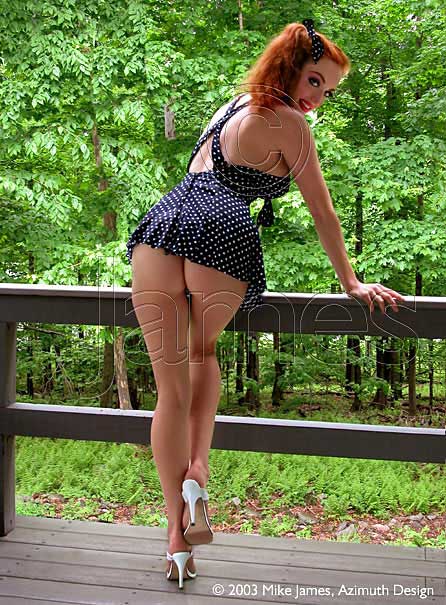 P132 Summer
What a total VISION! Like a gorgeous summer day isn't enough blessing, Mike felt he
had to throw Marie's silky, round derriere into the mix. Mike claims he bought this 
vintage 1940s dress for $2 at Salvation Army, but I suspect hem modification. 
The thought occurred to me of mounting a giant transparency of this image on a backlight box. 
Then putting a paned, window frame around it and draped curtains to either side. 
It'd be like looking out a window. Which would be great...because I would not mind one bit, 
having this beauteous sight greeting me every day, till the end of my days.

Copyright © 2003Mike James, Azimuth Design
All photographs, in whole or in part, and all related materials are 
copyrighted and registered intellectual property of Azimuth Design. 
All rights reserved, in any media.
---
The Gremlins in the Garage webzine is a production of Firefly Design. If you have any questions or comments please get in touch.

Copyright © 1994-1997 Firefly Design.