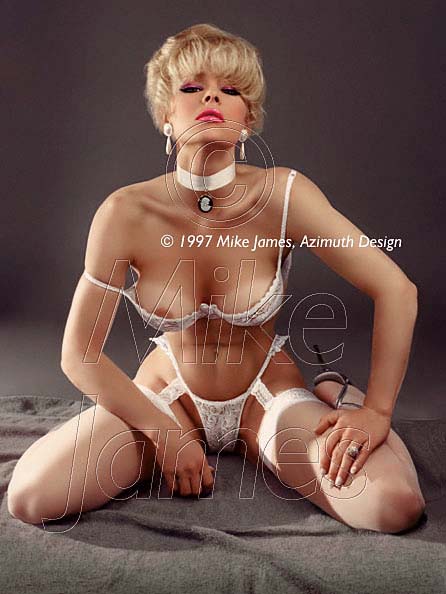 P076 Split

Mike usually does his own make-up.Lavender eye shadow and candy pink lipstick is "in" now (2002), 
but it wasn't back in 1997 when this picture was taken. Credit goes to Mike for knowing what looks good 
despite popular trends. We LOVE the frontal, in-your-face, matter-of-fact, pop-artiness of this pose.
Dana knows full well what she's packing - libido C-4, the power to vaporize ANY possible resistance.
Note the location of her loose, cupped hand...so casual, so subtle and easy to miss. Pure genius.
Copyright ©  1997 -98 Mike James, Azimuth Design
All photographs, in whole or in part, and all related materials are 
copyrighted and registered intellectual property of Azimuth Design. 
All rights reserved, in any media.
---
The Gremlins in the Garage webzine is a production of Firefly Design. If you have any questions or comments please get in touch.

Copyright © 1994-2001 Firefly Design.