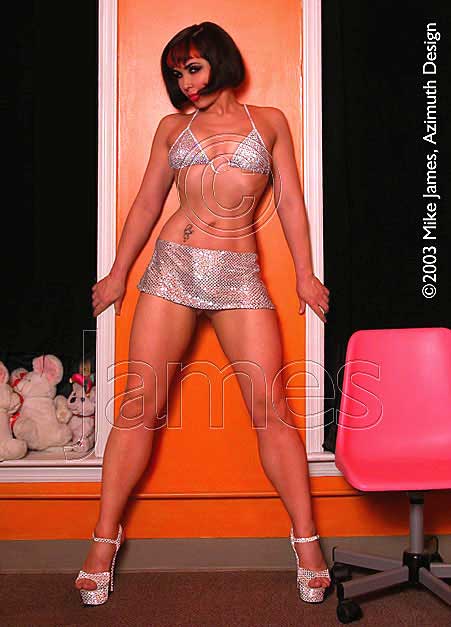 P130 Sparkle
Liberace's got nothing on Suzy. This girl can "work" the glitter!
Isabelle Jorgensen both designed and sewed this costume for Mike. 
The acrylic ring on the top (and two more on the thong, hidden under skirt) 
subtlety imitate super-naughty c--k rings. And there's that ubiquitous hip-wag. 
The look in Suzy's gaze says..."Okay, I'm trapped. So now what? 
Great colors in this with the pink chair.

Copyright © 2003Mike James, Azimuth Design
All photographs, in whole or in part, and all related materials are 
copyrighted and registered intellectual property of Azimuth Design. 
All rights reserved, in any media.
---
The Gremlins in the Garage webzine is a production of Firefly Design. If you have any questions or comments please get in touch.

Copyright © 1994-1997 Firefly Design.