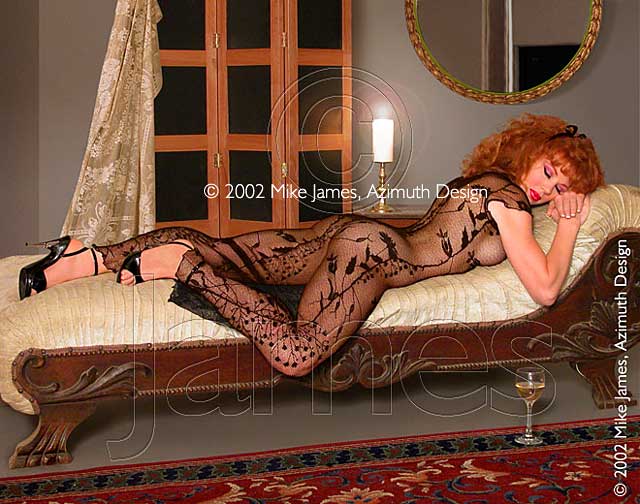 P100 Sleeping Beauty
I like that this picture marks Mike's 100th photograph. It completely transcends the "Pin-up" genre. 
This is, "high art". I rank it right up there with Ingres "Olympia, any Elvgren or John Singer Sargent painting. 
This is jaw-dropping, wet-your-pants gorgeous!! The staging is masterful. The color sumptuous. 
The frontal lighting, so totally revealing, the "lioness" pose, so powerfully sensual. And Heather herself...
well, what can one say...she's a total GODDESS here! Utterly sweet, supremely  erotic. 
I put this one in Mike's top five.
___________ 

And folks, we've said it before and we'll say it again. Do not think, not for one second, that you are seeing
the glory of this image by viewing this crass, low-rez jpeg. Fully, 80% of the picture's quality is absent here.

For those of you uploading these web pics and thinking you're "smart" cuz you got it for free?... you have no idea.
A big, 18" by 24" print is the ONLY way to feel the raw power of these. Trust me. Buy a print.... You'll see.
And there's this too...be a player, a "Patron of the Arts" not a "stealer" of the arts.... SUPPORT Mike!  
Help him to continue to create these fabulous images. It's only right.
Copyright © 2002 Mike James, Azimuth Design
All photographs, in whole or in part, and all related materials are 
copyrighted and registered intellectual property of Azimuth Design. 
All rights reserved, in any media.
---
The Gremlins in the Garage webzine is a production of Firefly Design. If you have any questions or comments please get in touch.

Copyright © 1994-1997 Firefly Design.