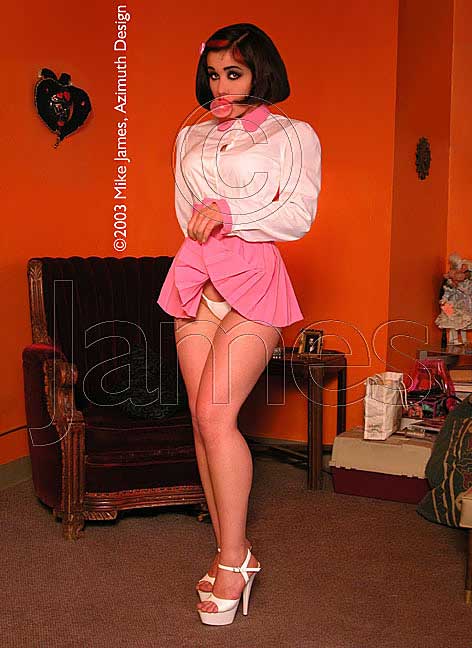 P125 Skirt Flirt
Talk about mixed messages! This must be the sweetest, most innocent schoolgirl
outfit I've ever seen. (Mike says to thank Isabelle Jorgensen once again.) 
With Suzy's demure stance, her hair pulled aside sweetly with a flower barrette, 
her shy, questioning eyes, and bubblegum bubble, all phasers seem set on "innocent". 
But then, WHAMMO!....the little skirt lift blows all that to hell. This is a "teaser"
of  the HIGHEST order.

Copyright © 2003Mike James, Azimuth Design
All photographs, in whole or in part, and all related materials are 
copyrighted and registered intellectual property of Azimuth Design. 
All rights reserved, in any media.
---
The Gremlins in the Garage webzine is a production of Firefly Design. If you have any questions or comments please get in touch.

Copyright © 1994-1997 Firefly Design.