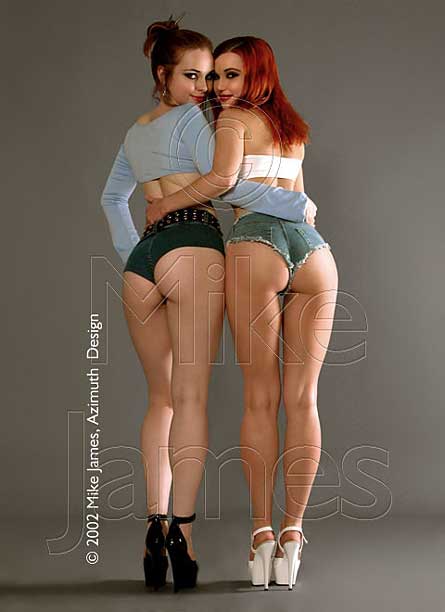 P084 Showoffs
Ever hear the expression "I love that wagon she's draggin."? Here it is times TWO!
We're sure you recognize Erin there on the left, both by her lovely countenance
and that world-beating derriere she flaunts. Is it possible that her roommate, 
Jessica has an EQUALLY lovely posterior? Both are truly magnificent, and flawless. 
Mike lets you decide. Ever notice he has a way of lighting that just lets you 
"swim" in the soft flesh of these beauties? You can practically feel it!
Back to Girlfriends Thumbnails
Copyright © 2002 Mike James, Azimuth Design
All photographs, in whole or in part, and all related materials are 
copyrighted and registered intellectual property of Azimuth Design. 
All rights reserved, in any media.
---
The Gremlins in the Garage webzine is a production of Firefly Design. If you have any questions or comments please get in touch.

Copyright © 1994-1997 Firefly Design.