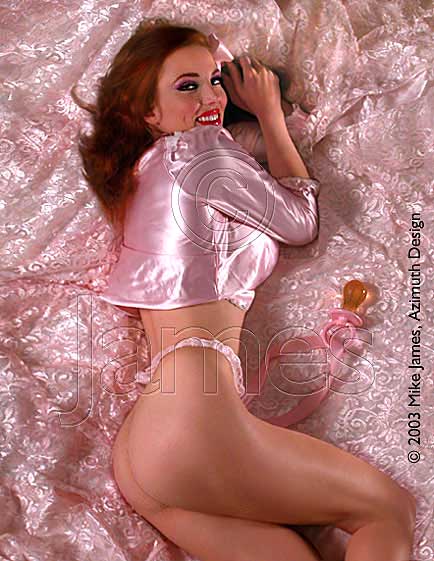 P138 Satin Baby
You know what I like? ...When a girl smiles and her eyes smile too. 
It just makes her whole face light up, which in this case ignites the picture.
Leave it to Mike to drown a girl in "sweet and innocent" candy-pink lace 
and then introduce an element, the oversized pacifier, as a single, devilish nuance. 
It's size is obscene, and flavors the otherwise sweet picture, with just the right measure 
of naughtiness. And by the way, bravo Marie,...that is one LUSCIOUS derriere!

Copyright © 2003Mike James, Azimuth Design
All photographs, in whole or in part, and all related materials are 
copyrighted and registered intellectual property of Azimuth Design. 
All rights reserved, in any media.
---
The Gremlins in the Garage webzine is a production of Firefly Design. If you have any questions or comments please get in touch.

Copyright © 1994-1997 Firefly Design.