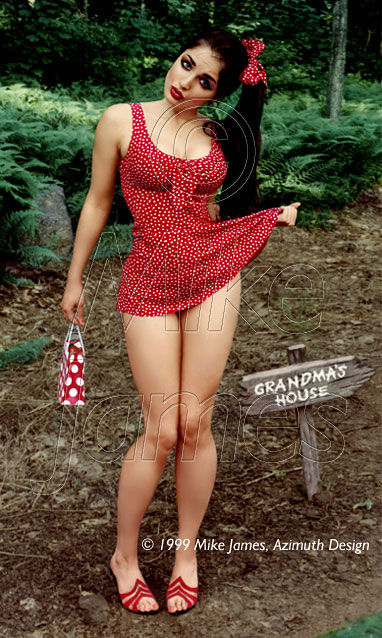 P059 Riding Tina

This is the outdoor version of Tina as Red Riding Hood. (Not that it's not 
welcome, but we're thinking now, Mike just likes ANY excuse to put Tina in red.) 
There's that famous Tina head-tilt at work...she's in need of some "assistance" I think.
Tug on the dress a little more,Tina. Perhaps that will elicit from us the help you need.
Copyright ©1999 Mike James, Azimuth Design
All photographs, in whole or in part, and all related materials are 
copyrighted and registered intellectual property of Azimuth Design. 
All rights reserved, in any media.
---
The Gremlins in the Garage webzine is a production of Firefly Design. If you have any questions or comments please get in touch.

Copyright © 1994-1997 Firefly Design.