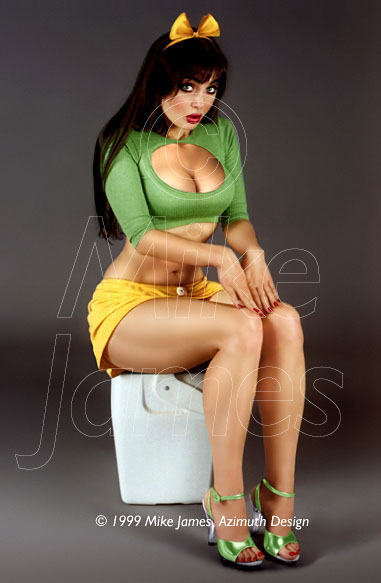 P006 Picnic

What a darling little outfit! Mike found it in the pre-teen section, did 
a little creative sewing and voila!...the best of both worlds, sweetness AND sex appeal.
Mike liked this one so much he printed it 11 feet high for a trade-show display.
Folks flocked to it like moths to a flame. Imagine sharing a room with this beauty daily.
Well...you CAN!
Copyright © 2001 Mike James, Azimuth Design
All photographs, in whole or in part, and all related materials are 
copyrighted and registered intellectual property of Azimuth Design. 
All rights reserved, in any media.
---
The Gremlins in the Garage webzine is a production of Firefly Design. If you have any questions or comments please get in touch.

Copyright © 1994-1997 Firefly Design.