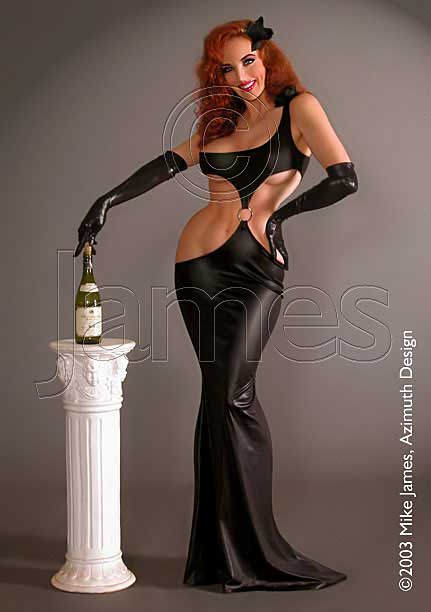 P131 Party Girl
If you look at the new additions to Mike's drawings, you'll see the sketchbook 
sketch for this dress, Mike's own design. Isabelle did the honors of creating it.
And this dimpled Irish lass makes good use of the bare-hips feature, clearly a dress 
that permits no undies. Marie herself is a wonderful seamstress and had an appreciation 
of the elegant draping, and even contributed her own touch with opera-length gloves. 
A very classy picture.

Copyright © 2003Mike James, Azimuth Design
All photographs, in whole or in part, and all related materials are 
copyrighted and registered intellectual property of Azimuth Design. 
All rights reserved, in any media.
---
The Gremlins in the Garage webzine is a production of Firefly Design. If you have any questions or comments please get in touch.

Copyright © 1994-1997 Firefly Design.