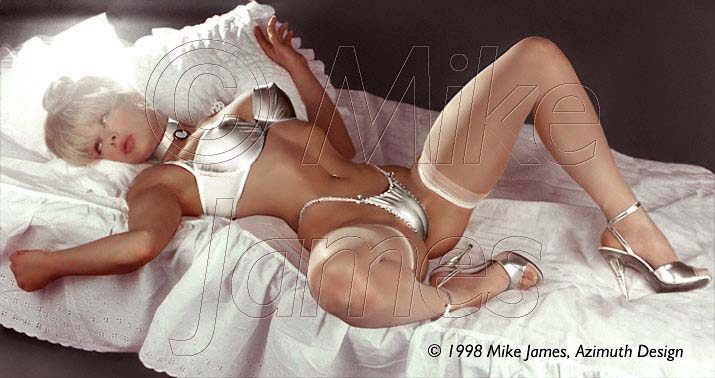 P066 Metallica

At first glance, this seems a fairly sweet bridal tableaux, but examine closer. There is so much bondage here, the mind reels. 
The ribbon choking her neck. Her chest, heaving against it's constrictive metallic cups.The tiny shackle in her belly button. 
Panties yanked up wickedly tight.Those floppy legs, strangled by her stockings. Her feet strapped into forced "S' curves.  
The winsome look on Dana's face NOW seems more like ecstasy. She's DROWNING in bondage sensations. Cleverly sinister.
Copyright ©  1997 -98 Mike James, Azimuth Design
All photographs, in whole or in part, and all related materials are 
copyrighted and registered intellectual property of Azimuth Design. 
All rights reserved, in any media.
---
The Gremlins in the Garage webzine is a production of Firefly Design. If you have any questions or comments please get in touch.

Copyright © 1994-2001 Firefly Design.