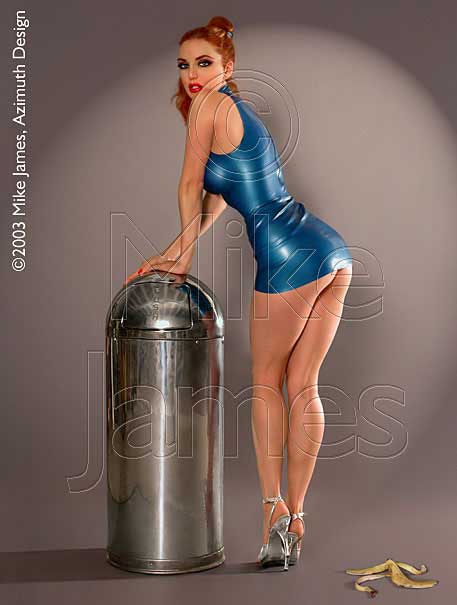 P134 Litter Bug
"Slap the cuffs on 'er, boys!!! Just cuz she waggin' a million-dollar tail, 
doesn't mean she's not subject to the full wrath of the law!"  Ha ha.
Not too Freudian, that torpedo trash can, huh? Wow, just great! The banana too.!
It elicits the image that just moments ago, she was pushing that soft creamy fruit 
between her full, lacquered lips. 
And now,... everyone repeat after me ..."Rubber and Marie, certainly agree."

Copyright © 2003Mike James, Azimuth Design
All photographs, in whole or in part, and all related materials are 
copyrighted and registered intellectual property of Azimuth Design. 
All rights reserved, in any media.
---
The Gremlins in the Garage webzine is a production of Firefly Design. If you have any questions or comments please get in touch.

Copyright © 1994-1997 Firefly Design.