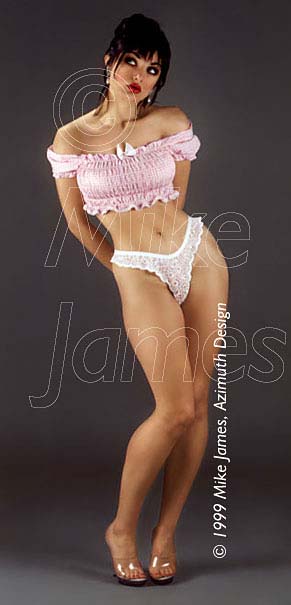 P018 Lacey

Mike accidentally stepped into the dressing room and caught Tina half-dressed... 
busy wiggling into the cutoffs he'd asked her to put on for a "country-girl" shot. 
But seeing the flirty lace panties she was wearing, he said "Oh my, Tina!...those are great!
Forget the shorts...this is way better." Tina shyly complied.
Copyright © 2001Mike James, Azimuth Design
All photographs, in whole or in part, and all related materials are 
copyrighted and registered intellectual property of Azimuth Design. 
All rights reserved, in any media.
---
The Gremlins in the Garage webzine is a production of Firefly Design. If you have any questions or comments please get in touch.

Copyright © 1994-1997 Firefly Design.