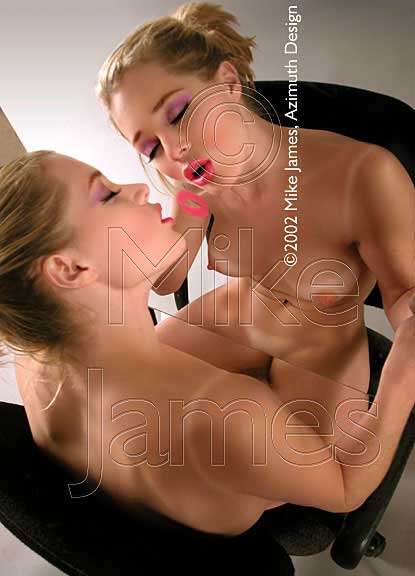 P114 Kiss Practice
This is about as daring as Mike gets. And Nico's a trooper to go for it.
Totally nude and completely lovely, Nico kisses her mirror image. 
At first glance, it looks like twins kissing, which itself is quite sexy. 
But even the second reading, a nymphette caught kissing herself, 
is also a total libido-igniter. Nice composition too. 
Just a SUPER-sexy image...makes a GREAT print.
Copyright © 2002Mike James, Azimuth Design
All photographs, in whole or in part, and all related materials are 
copyrighted and registered intellectual property of Azimuth Design. 
All rights reserved, in any media.
---
The Gremlins in the Garage webzine is a production of Firefly Design. If you have any questions or comments please get in touch.

Copyright © 1994-1997 Firefly Design.