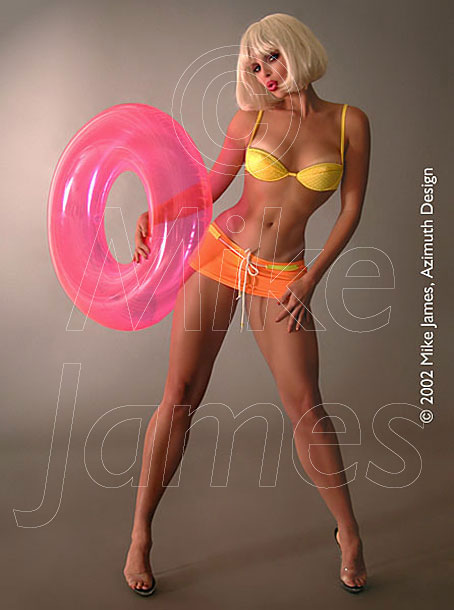 P036 Funtime

Okay. I'm certain this "skirt" was intended merely as a cover-up for yellow bikini bottoms.
And if I'm not mistaken, Jasi has jettisoned the bikini bottoms, opting for "skirt only". 
Mike confirms. You are EVIL Jasi!!! Do you hear me? Evil, evil, evil!
I think I get what Mike's after here though. I'm sure it's no coincidence...
...the twin, shiney pink "O's" of the inner tube, and Jasi's full, puckered lips.
Copyright © 2002 Mike James, Azimuth Design
All photographs, in whole or in part, and all related materials are 
copyrighted and registered intellectual property of Azimuth Design. 
All rights reserved, in any media.
---
The Gremlins in the Garage webzine is a production of Firefly Design. If you have any questions or comments please get in touch.

Copyright © 1994-1997 Firefly Design.