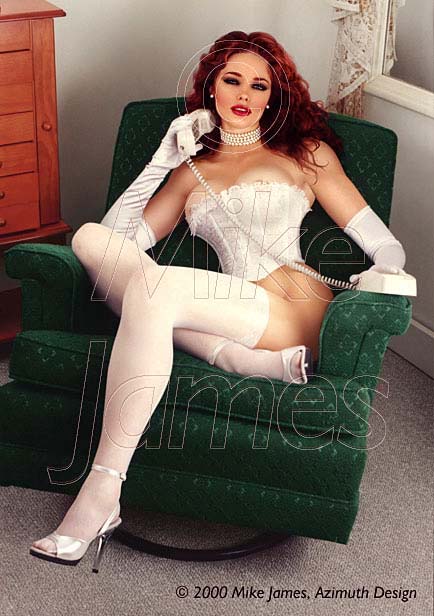 P077 Fone Date

This is Mike's new favorite picture of Shannon. He vows that, when and if he ever manages 
to get her back here, he's gonna have her SWIMMING in white! Mike showed me this print 
at the studio in the big 17" x 24" size, and I must say, it's MAGNIFICENT! 
You can't see it here so well, but Shannon's face, those crystalline eyes, are positively 
MESMERIZING up close!!  On the wall she commands the room like an angel.

Copyright © 1999 Mike James, Azimuth Design
All photographs, in whole or in part, and all related materials are 
copyrighted and registered intellectual property of Azimuth Design. 
All rights reserved, in any media.
---
The Gremlins in the Garage webzine is a production of Firefly Design. If you have any questions or comments please get in touch.

Copyright © 1994-1997 Firefly Design.