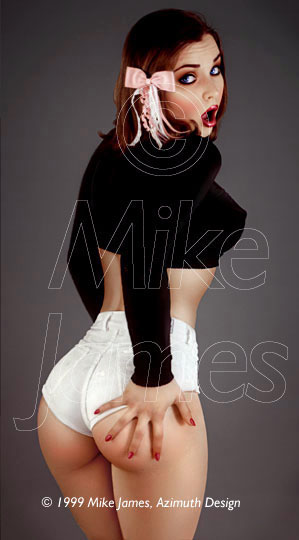 P008 Erin Shorts

Tina's friend, Erin, loaned Mike her beauty. Erin MUST be the owner of 
the world's prettiest derriere. Mike found the tiniest little white stretch shorts 
he'd ever seen, and made them even smaller. It took 20 minutes for Erin 
to wiggle that big beautiful behind into them, and they had to be scissored off! 
But what an effect! Mama Mia!
Copyright © 2001 Mike James, Azimuth Design
All photographs, in whole or in part, and all related materials are 
copyrighted and registered intellectual property of Azimuth Design. 
All rights reserved, in any media.
---
The Gremlins in the Garage webzine is a production of Firefly Design. If you have any questions or comments please get in touch.

Copyright © 1994-1997 Firefly Design.