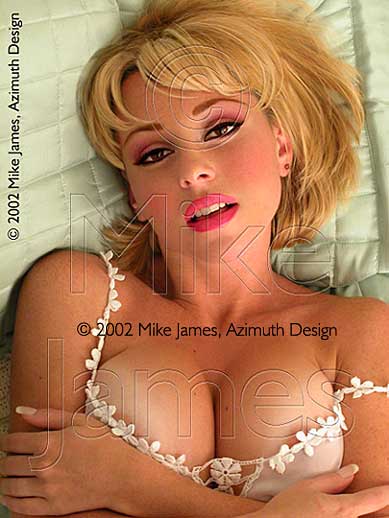 P090 Dreamy

Okay,..I wanna pounce on this picture so bad I can taste it. 
I LOVE the point of view, right over top her, in bed. I'm in the role of lover. 
Those eyes...soooo inviting! And Mike assures me there is NO breast enhancement here. 
What fabulously lovely, gorgeous make-up! Bravo Mike and Rach. Whatta' team!
C'mon guys (and girls). Get this, and frame it up for the wall at the foot of your bed. 
Wake up to sweet Rachael every morning.
Copyright © 2002 Mike James, Azimuth Design
All photographs, in whole or in part, and all related materials are 
copyrighted and registered intellectual property of Azimuth Design. 
All rights reserved, in any media.
---
The Gremlins in the Garage webzine is a production of Firefly Design. If you have any questions or comments please get in touch.

Copyright © 1994-1997 Firefly Design.