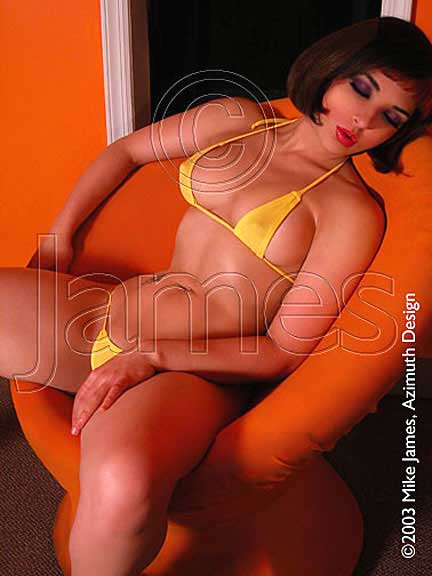 P127 Dream
Thanks Mike...that bikini deserves a second peek. By the way, kudos to 
Isabelle for sewing up such a tiny delicacy. Odd thing about minimum coverage 
is that it is more sensual by far than complete nudity. It indicates modesty,
denial, thereby injecting a quality of maddening "tease". Suzy's pursed lips indicate 
she's swimming in a sensual dream. A STUNNINGLY sexy composition.

Copyright © 2003Mike James, Azimuth Design
All photographs, in whole or in part, and all related materials are 
copyrighted and registered intellectual property of Azimuth Design. 
All rights reserved, in any media.
---
The Gremlins in the Garage webzine is a production of Firefly Design. If you have any questions or comments please get in touch.

Copyright © 1994-1997 Firefly Design.