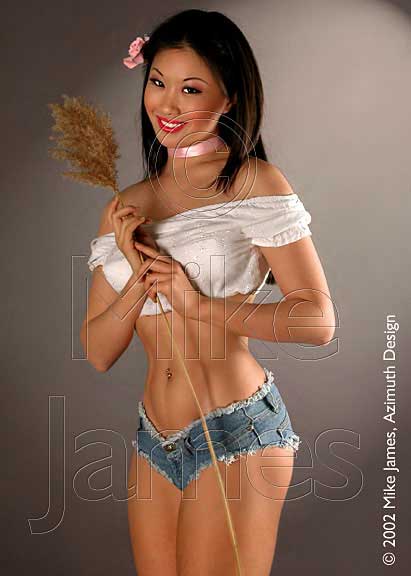 P118 Country
Odd to pose an Asian as a sweet, shy, southern belle....but I buy it. 
Why? I guess I just really just WANT to believe this scenario could exist.
That I could find such a unspoiled beauty tucked away deep in the Tennessee hills.
That I could then have those gentle hands wrap around me and gaze into 
that sweet, shy  smile. Such a simple picture, but soooo POWERFULLY feminine.

Copyright © 2002 Mike James, Azimuth Design
All photographs, in whole or in part, and all related materials are 
copyrighted and registered intellectual property of Azimuth Design. 
All rights reserved, in any media.
---
The Gremlins in the Garage webzine is a production of Firefly Design. If you have any questions or comments please get in touch.

Copyright © 1994-1997 Firefly Design.