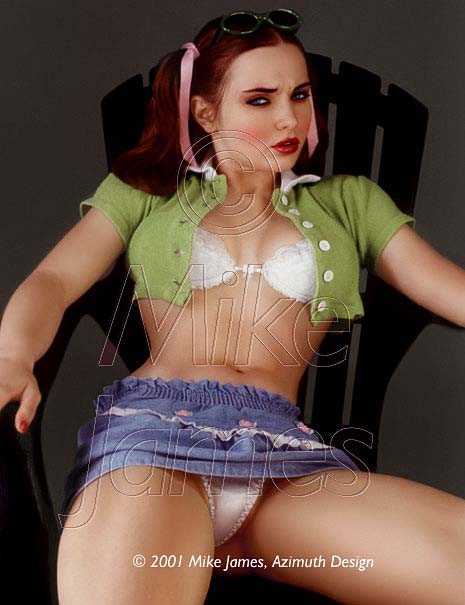 P065 Cool Off

This little summer ensemble is undersized to the point of ridiculousness.
And that's its charm. Indeed, Erin could button up the top, and stand up without her panties 
peeking out. But sitting down, as Mike instructed, was another matter. There was just 
NO WAY to get comfy, and keep all the stuff hidden. Therefore, the slightly irritated look 
on her face, exacerbated by Mike, cranking down his tripod height. Rather funny.

Copyright © 2001 Mike James, Azimuth Design
All photographs, in whole or in part, and all related materials are 
copyrighted and registered intellectual property of Azimuth Design. 
All rights reserved, in any media.
---
The Gremlins in the Garage webzine is a production of Firefly Design. If you have any questions or comments please get in touch.

Copyright © 1994-1997 Firefly Design.