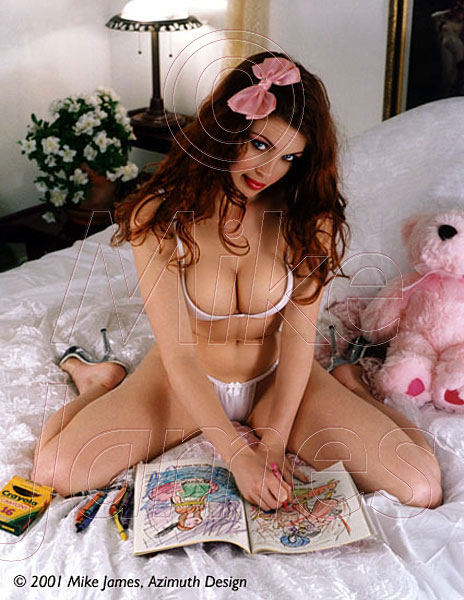 P043 Coloring

This one just makes me laugh out loud. I like everything about it. The scribbling
outside the lines, the big goofy pink bow. Her little stuffed bear with the heart-shaped paw pads.
Even though Jasi looks sexy as sin here, you just want to give her a sweet peck on the cheek 
and tuck her in. Lovely in every way. A gorgeous, sensitive composition. Bravo Mike.
And of course, bravo Jasi.
Copyright © 2001Mike James, Azimuth Design
All photographs, in whole or in part, and all related materials are 
copyrighted and registered intellectual property of Azimuth Design. 
All rights reserved, in any media.
---
The Gremlins in the Garage webzine is a production of Firefly Design. If you have any questions or comments please get in touch.

Copyright © 1994-1997 Firefly Design.