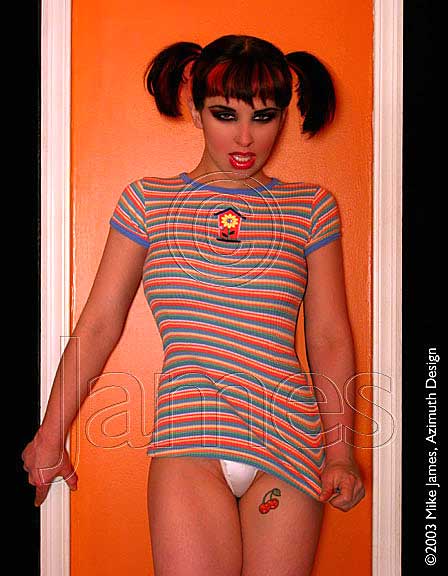 P124 Cherry Leg
Mike put on Suzy the heavy eye makeup of a real bad girl, his Sedusa character! 
Everything about this image screams naughty...the sex-drunk eyes, the slack mouth,
the slight hip shot, the ineffectual pulling on the shirtdress, a feeble attempt 
to hide her panties, the little thigh cherries, the grip in the white molding. 
There's no place to run from this faux-innocent vixen.

Copyright © 2003Mike James, Azimuth Design
All photographs, in whole or in part, and all related materials are 
copyrighted and registered intellectual property of Azimuth Design. 
All rights reserved, in any media.
---
The Gremlins in the Garage webzine is a production of Firefly Design. If you have any questions or comments please get in touch.

Copyright © 1994-1997 Firefly Design.