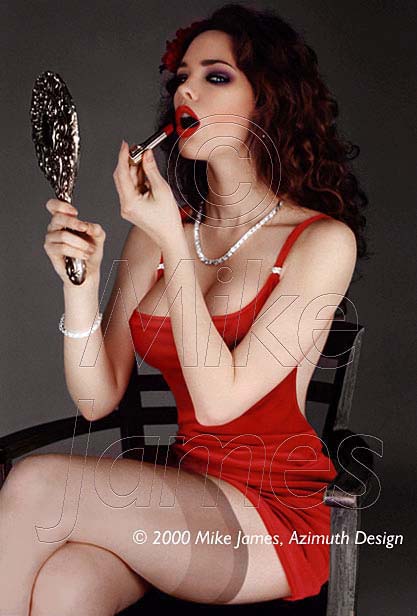 P083 Cherry Kiss

Okay, THIS almost borders on pornography. Beautiful, full, cherry-red lips. Shiny tube, 
indicating the open cave of her mouth. Head tilted back in receivership. Sly bedroom eyes. 
Silvery chain decorating her copious cleavage. Pulled-up skirt revealing a creamy thigh.
Gentle tubular grip on the mirror handle. The plethora of sex signals here are AMAZING! 
Yet, it's remains...all...totally presentable! An amazing feat. Shannon + Mike = genius.


Copyright © 1999 Mike James, Azimuth Design
All photographs, in whole or in part, and all related materials are 
copyrighted and registered intellectual property of Azimuth Design. 
All rights reserved, in any media.
---
The Gremlins in the Garage webzine is a production of Firefly Design. If you have any questions or comments please get in touch.

Copyright © 1994-1997 Firefly Design.