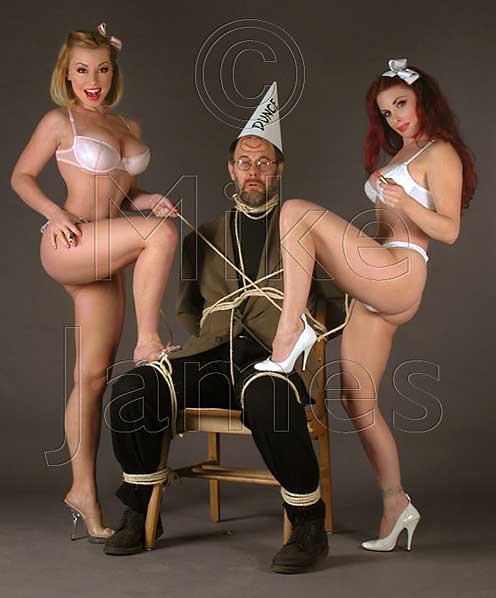 P085 Bound
Appears Mike's starting off this section with a little humor. 
Actually, he informs me this shot came at the END of a long day, where he'd subjected 
Jasi and Rachael to similar ignomanity. He thought it might be some fun to let the gals 
blow off a little steam. I think he got more than he bargained for.
That Rachael's roping prowess on exhibit. Once properly constrained, it was Jasi's 
brilliant idea to make Mike's bald pate a canvas for her lipstick.The hat, and lenswork 
is courtesy of Mike's better half. After their fun, the gals broke for lunch, 
leaving Mike on set, bound and yelling, "Hey, sandwich in here!"
 
Back to Girlfriends Thumbnails

Copyright © 2002 Mike James, Azimuth Design
All photographs, in whole or in part, and all related materials are 
copyrighted and registered intellectual property of Azimuth Design. 
All rights reserved, in any media.
---
The Gremlins in the Garage webzine is a production of Firefly Design. If you have any questions or comments please get in touch.

Copyright © 1994-1997 Firefly Design.