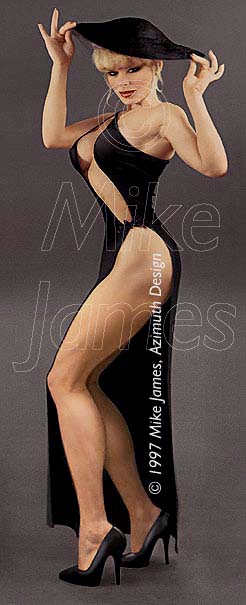 P014 BlackEve

Dana's cotton-pantied "Bad Girl" ad (previous pic) worked so well, that Mike 
used her in another kit ad.This time he wanted to show her "elegant", which is not 
to say she is even a whit less sexy. Whew! Getta' load of those naked gams! A stunner!
Can anyone say "Kim Bassinger"?
Copyright © 2001Mike James, Azimuth Design
All photographs, in whole or in part, and all related materials are 
copyrighted and registered intellectual property of Azimuth Design. 
All rights reserved, in any media.
---
The Gremlins in the Garage webzine is a production of Firefly Design. If you have any questions or comments please get in touch.

Copyright © 1994-1997 Firefly Design.