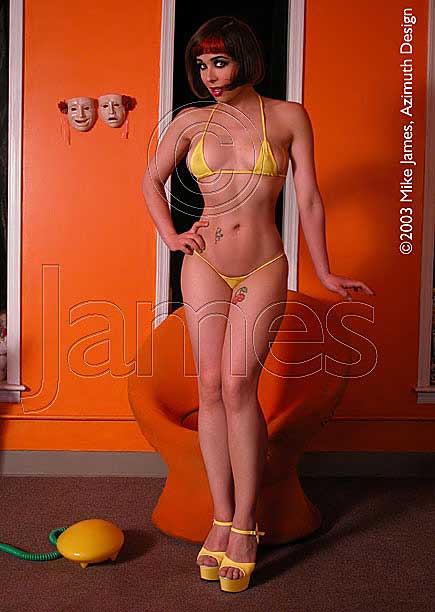 P126 Bikini
Lest there be any doubt folks,.... Suzy. Has. A. BODY!!!
We're charmed how Suzy "models" her miniscule swimwear...like she's asking what 
you think of the fit. "Mmm,that looks like a medium, Suze. Perhaps you take a small."
Ha ha. Fer chrissakes!..the SHOES cover more flesh than the bikini!  
All joking aside, nice staging, great pose, beautifully smooth fleshtones, great detail. 
Now, um a....can we see the backside, sweety?

Copyright © 2003Mike James, Azimuth Design
All photographs, in whole or in part, and all related materials are 
copyrighted and registered intellectual property of Azimuth Design. 
All rights reserved, in any media.
---
The Gremlins in the Garage webzine is a production of Firefly Design. If you have any questions or comments please get in touch.

Copyright © 1994-1997 Firefly Design.