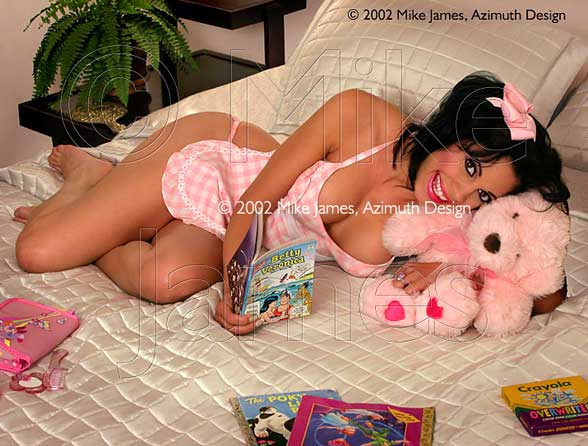 P094 Bed Story

There is a lot to like about Avery, but Mike says number one on his list is her big, wonderful smile.
"The outside corners on the lower lip spread apart. Oh God, it's soooo adorable! She has the single, 
most KISSABLE mouth I've ever seen on a girl!" 
Well, Mike, be that as it may, we detect a few OTHER adorable attributes worth mentioning.
In fact, every single aspect of this picture just makes me want to WORSHIP this lovable creature!
I'm getting this print for myself folks, and it ain't because I'm a fan of "The Poky Little Puppy"!
Copyright © 2002 Mike James, Azimuth Design
All photographs, in whole or in part, and all related materials are 
copyrighted and registered intellectual property of Azimuth Design. 
All rights reserved, in any media.
---
The Gremlins in the Garage webzine is a production of Firefly Design. If you have any questions or comments please get in touch.

Copyright © 1994-1997 Firefly Design.