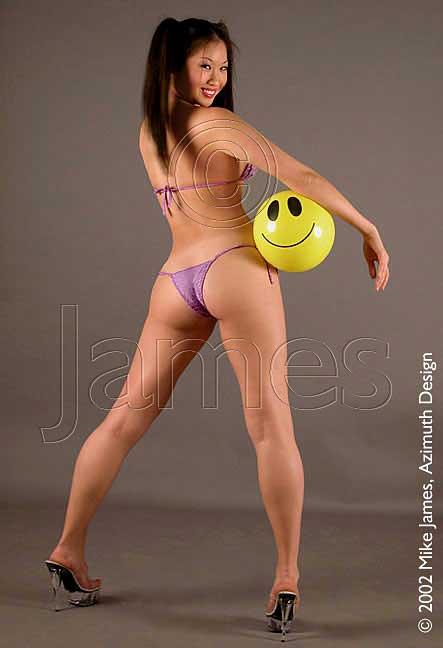 P115 Ball Hip
Well, Mike's not wasting any time showing us Diane's UNCANNY attributes.
Good LORD those are gorgeous legs and cheeks! And there's that million-dollar 
smile. You can see what he means by flawless skin. But rare indeed is a 
"leggy" Asian. This shot is like a ray of pure sunlight, so uplifting and joyous.
And that smiley ball is absolutely hilarious, it's expression reflecting our own.

Copyright © 2002 Mike James, Azimuth Design
All photographs, in whole or in part, and all related materials are 
copyrighted and registered intellectual property of Azimuth Design. 
All rights reserved, in any media.
---
The Gremlins in the Garage webzine is a production of Firefly Design. If you have any questions or comments please get in touch.

Copyright © 1994-1997 Firefly Design.