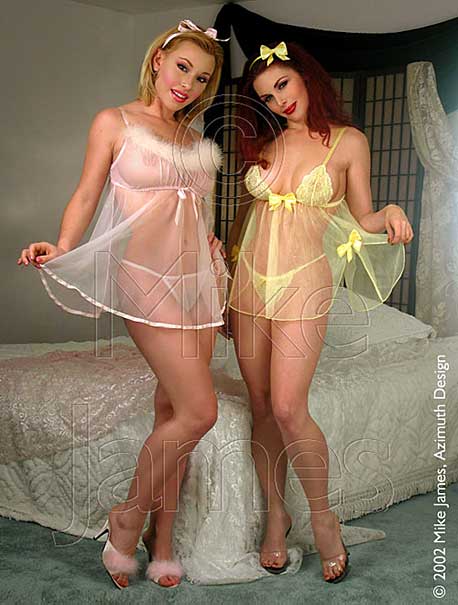 P088 Baby Dolls
I've seen this tableaux before...girls in flirty babydoll lingerie, inviting you to play.
But most often those pics are purely salacious. Rarely in such pictures do you get 
what you get here, the true feel of "demure innocence". This is more a "display". 
"See?", they seem to say, "We're all pretty.... and it's just for you." It's so effective! 
There's almost a "Please" in their body language. Very gentle, extremely provocative.
Back to Girlfriends Thumbnails
Copyright © 2002 Mike James, Azimuth Design
All photographs, in whole or in part, and all related materials are 
copyrighted and registered intellectual property of Azimuth Design. 
All rights reserved, in any media.
---
The Gremlins in the Garage webzine is a production of Firefly Design. If you have any questions or comments please get in touch.

Copyright © 1994-1997 Firefly Design.