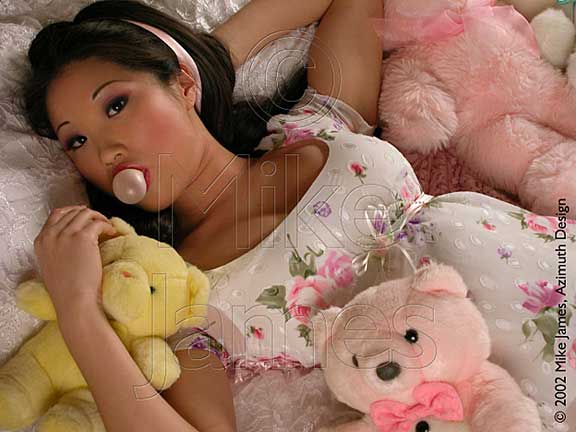 P116 Baby Diane
And here's what Mike was talking about Diane having the ability to appear half her age. 
Swaddled in satin and lace, accompanied by her fluffy-soft teddy bears, and blowing bubblegum 
none-the-less, this tableaux could NOT be more tender. Everything about this is warm, soft, pink 
and full of possibility. This print would be great paired on the wall with "Beddy Bye" (coming up).

Copyright © 2002 Mike James, Azimuth Design
All photographs, in whole or in part, and all related materials are 
copyrighted and registered intellectual property of Azimuth Design. 
All rights reserved, in any media.
---
The Gremlins in the Garage webzine is a production of Firefly Design. If you have any questions or comments please get in touch.

Copyright © 1994-1997 Firefly Design.