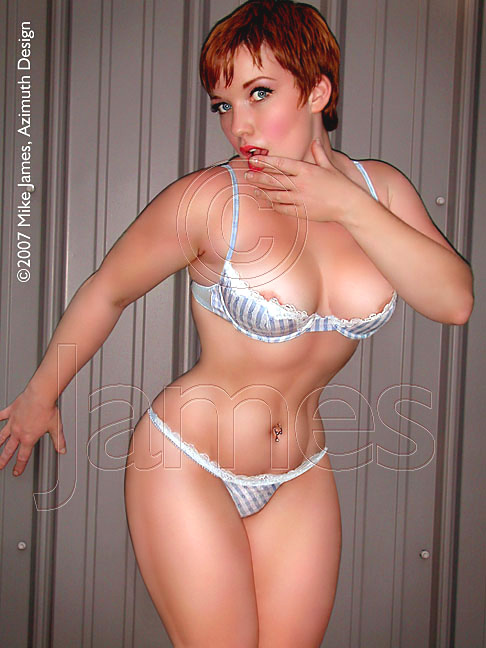 P243 Trapped
  
What a knockout! 
I hardly know where to begin describing this ravishing beauty. Let's go top to bottom. 
We start with the SWEETEST of faces! Note the gentle, babysoft hands. 
Down we go to a broad, healthy ribcage, outfitted with truly magnificent young breasts, 
nipples peeking out just a hint...a maddening little nuance! 
Next up, a dizzyingly "voluptuous" tummy with a flirty, little belly button "pull-tab". 
Soft carressable hips, and full, meaty legs. And everywhere, skin, creamy as butter.
Every INCH of this girl seems to beg for carressing. Fawn's such a catch, Mike!   

Copyright © 1999 Mike James, Azimuth Design
All photographs, in whole or in part, and all related materials are 
copyrighted and registered intellectual property of Azimuth Design. 
All rights reserved, in any media.
---
The Gremlins in the Garage webzine is a production of Firefly Design. If you have any questions or comments please get in touch.

Copyright © 1994-1997 Firefly Design.