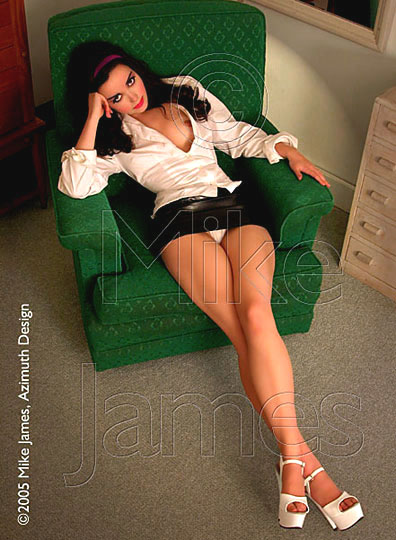 P197 TV Nite

Poor Rei looks bored out of her cranium. 
If only there was something else to do, or someone to keep her company.
Hey! I'm not doing nothin'. 
A very sexy girl here. And it's not just that sliver of tight white panty 
peeking out of her black leather mini. It's not just that crisp white blouse
undone just enough to expose a bare nipple. It's the look in her eye 
that says she doesn't really care if you see it. A nice, very leggy, debut shot.

Copyright © 1999 Mike James, Azimuth Design
All photographs, in whole or in part, and all related materials are 
copyrighted and registered intellectual property of Azimuth Design. 
All rights reserved, in any media.
---
The Gremlins in the Garage webzine is a production of Firefly Design. If you have any questions or comments please get in touch.

Copyright © 1994-1997 Firefly Design.