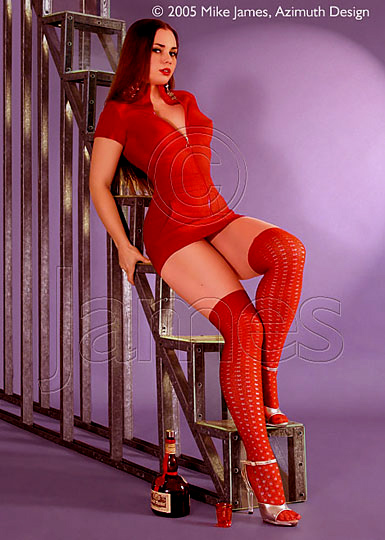 P188 Orange Crush

Erin brought this outfit with her, a stretchy, super-cool 1970's number.
How she found the wild stockings that match is a mystery for the ages.
Mike dug out a bottle of Grand Marnier, and an orange shot glass. 
Add high-tech plexy steps, shake all with cracked ice, and you've got yourself
an Austin Powers grade super-vixen!
     
Copyright © 2002 Mike James, Azimuth Design
All photographs, in whole or in part, and all related materials are 
copyrighted and registered intellectual property of Azimuth Design. 
All rights reserved, in any media.
---
The Gremlins in the Garage webzine is a production of Firefly Design. If you have any questions or comments please get in touch.

Copyright © 1994-1997 Firefly Design.