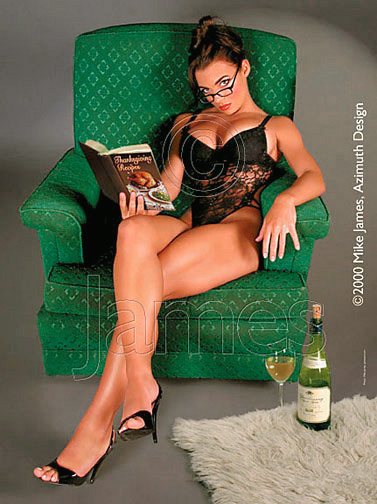 P184 Krista

 Peculiar reading attire, uh, not that I'm complaining.
Seems Krista's planning on preparing a grand meal, "Thanksgiving Recipes".
I'll take a leg. (hm, where might THAT idea have come from).
Besides a slammin' body Krista has a great face and PIERCING eyes. 
Proof below.


Copyright © 1999 Mike James, Azimuth Design
All photographs, in whole or in part, and all related materials are 
copyrighted and registered intellectual property of Azimuth Design. 
All rights reserved, in any media.
---
The Gremlins in the Garage webzine is a production of Firefly Design. If you have any questions or comments please get in touch.

Copyright © 1994-1997 Firefly Design.