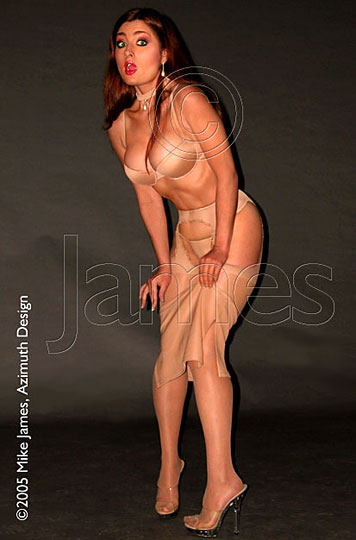 P180 Dressing

True, this was staged, but it was based on something Mike witnessed
just five minutes before he shot it..Tina slipping into a skirt. 
So, he dressed her in a completely nude-toned outfit and shot what he recalled,
a lovely visage indeed. He rarely uses a flash, but here, it fit's in totally 
with her expression of surprise.

Copyright © 1999 Mike James, Azimuth Design
All photographs, in whole or in part, and all related materials are 
copyrighted and registered intellectual property of Azimuth Design. 
All rights reserved, in any media.
---
The Gremlins in the Garage webzine is a production of Firefly Design. If you have any questions or comments please get in touch.

Copyright © 1994-1997 Firefly Design.