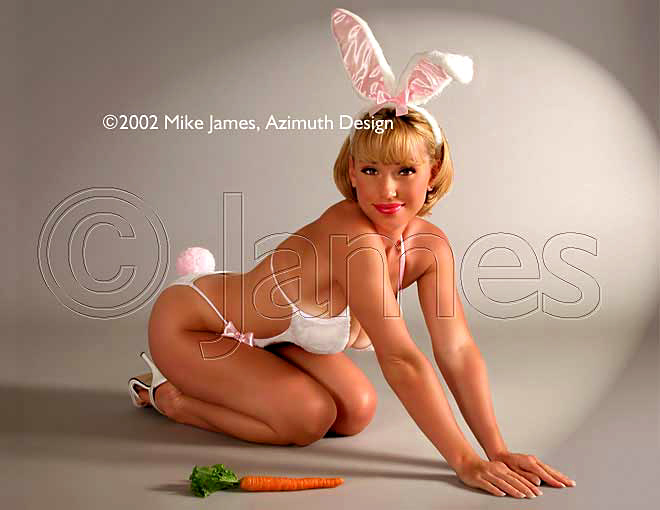 P156 Bunny

Hoppity, hoppity. Here is the world's best bunny costume, with the world's most perfect bunny inside it.
After decades of seeing hundreds, if not thousands, of Hef's bunnies, in this single picture, Rachael takes the prize. 
Why?... I'm not sure. I guess it's because, given the choice between an upscale, sophisticated "city" bunny, 
and this sweet, fuzzy little carrot nibbler, I'll take the later. It's more in keeping with the simple appeal 
of bunny rabbits, soft, cuddly, lovable, cute as a button. You just want to take CARE of her!
Kudos, Mike...after all these decades, someone finally NAILED it!

PS: Check out more "Bunny" pics of Rachael in the Behind-the-Scenes "Girl Lab" section
Copyright © 2002 Mike James, Azimuth Design
All photographs, in whole or in part, and all related materials are 
copyrighted and registered intellectual property of Azimuth Design. 
All rights reserved, in any media.
---
The Gremlins in the Garage webzine is a production of Firefly Design. If you have any questions or comments please get in touch.

Copyright © 1994-1997 Firefly Design.