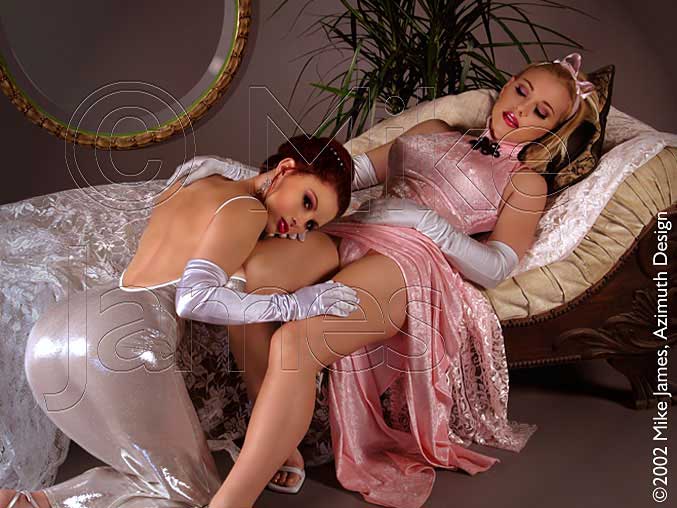 P153 Duet
A sensuously orchestrated, Victorian scene. Two beautiful ladies, all dolled up, with nothing but 
idle time on their hands. "Whatever shall we do, sweet friend Jasi?" queries Rachael, her panne velvet gown 
hiked up high enough to suggest one possibility open for consideration. 
The tenderness here is palpable, very feminine.I can't decide who is more stunning, Jasi, with her 
stretched-so-tight-over-the-rear-as-to-become-transparent, silver dress. Or Rachael, her breasts straining 
mightily against velveteen bondage. Both girls, their satin gloves on bare skin, are wondrously warm and sensual.
Back to Girlfriends Thumbnails
Copyright © 2002 Mike James, Azimuth Design
All photographs, in whole or in part, and all related materials are 
copyrighted and registered intellectual property of Azimuth Design. 
All rights reserved, in any media.
---
The Gremlins in the Garage webzine is a production of Firefly Design. If you have any questions or comments please get in touch.

Copyright © 1994-1997 Firefly Design.