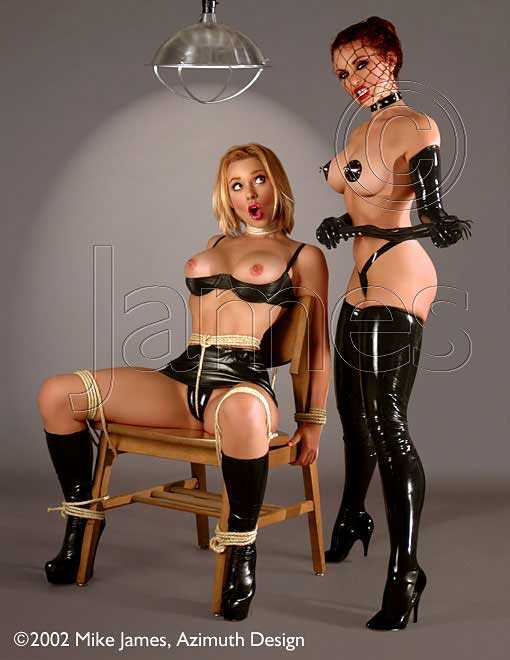 P152 Pickle
Appears a little interrogation going on.This is a bit dark for Mike.  
But, even in this heavy tableaux, there's humor. The girls are obviously hamming it up 
for the camera. And the staging is just too"perfect". The power-drunk, open-legged 
stance of Jasi, the loving way she caresses her whip, the netting over her face. 
The completeness of Rachael's immobilization, the stunningly neat rope work. 
And a particularly brilliant detail...Look carefully at the rope bisecting Rachael's crotch. 
It runs up the back of the chair and attaches to her neck. So any movement of her head 
(as when jerking after being struck) will send the message right to her nether regions.
Devilish touch, proving as they say, "God is in the details".
Back to Girlfriends Thumbnails
Copyright © 2002 Mike James, Azimuth Design
All photographs, in whole or in part, and all related materials are 
copyrighted and registered intellectual property of Azimuth Design. 
All rights reserved, in any media.
---
The Gremlins in the Garage webzine is a production of Firefly Design. If you have any questions or comments please get in touch.

Copyright © 1994-1997 Firefly Design.