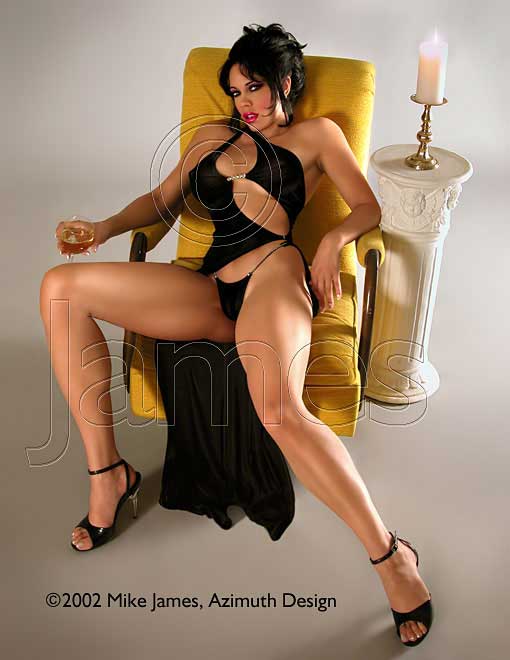 P147 Slouch
It looks like poor Avery's got more legs than she knows what to do with. Or maybe it's 
just a fisheye effect of the camera lens. But those legs look like 2/3rds of her body-mass!
Not that I'm complaining. I'd KILL to find a girl with legs like that! 
And a gown like that!
Ya just can't leave "sexy enough" alone, can you Mike? You gotta' cram her body into 
this gauzy, slit-dress from which not only do her creamy legs explode, but also generous 
peeks at her lower tummy, upper cleavage, lower cleavage, arms, neck, gaaaaah!
It's more maddening than if she were naked!...and...I guess... that's the point.
Copyright © 2002 Mike James, Azimuth Design
All photographs, in whole or in part, and all related materials are 
copyrighted and registered intellectual property of Azimuth Design. 
All rights reserved, in any media.
---
The Gremlins in the Garage webzine is a production of Firefly Design. If you have any questions or comments please get in touch.

Copyright © 1994-1997 Firefly Design.